THE REDCLYFFE IS SET IN A RURAL AREA
If your looking for a Chain Motel
Then this motel is probably not for you, But; if you are
searching for a small piece of America to share-then
look no further and enjoy a step back in time.
Friendly staff and service, become a part of a
Unique Experience, Enjoy our Maine climates.
Yes, you will find uneven floors, doors and windows,
that is what gives us the character and charm of
living on the Maine Coast.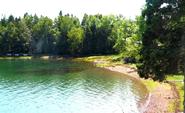 TAKE A MORNING STROLL ON THE BEACH AT LOW TIDE